Complimentary/Gifted Book
Hello, Sunshines, I have the huge pleasure to be today's stop on this wonderful blog tour for; The Woman in the Painting by Kerry Postle. I can't wait to share my review with you all, I hope you love it as much as I did.
The Woman In The Painting by Kerry Postle
Genre: Historical Fiction
Publisher: HQ Digital
Format: ebook/paperback
Release Date: 23rd July 2020
'She's beautiful,' I told him. 'Hair like skeins of silk; deep, brown eyes that sparkle in the light like jewels; beautiful lips, deep pink, and as juicy as ripe fruit.'
Ideas rippled in the pools of his eyes. 'I must paint her,' he said
1508. In Rome, artists are everywhere and feted as gods. But the most celebrated amongst them, a man who can paint beauty itself, is Raphael. When he touches brush to canvas, his subjects burst to life; he takes base metal and turns it to glistening gold.
When Raphael meets Margarita Luti, a baker's daughter, he is beguiled and inspired in equal measure. As his muse, her face becomes that of a thousand Madonnas, but it is his portraits of her which reveal his full talents – and which will become his downfall.
For Raphael is wanted for greater things than a mere baker's daughter. He is soon promised to the niece of a cardinal, a man upon whose connections and commissions the artist's future relies. Without his good will, Raphael will be ruined.
Raphael must make a choice between his love for Margarita and his future as an artist – a choice that will have devastating consequences.
Inspired by a heartbreaking true story, this stunning and evocative novel is perfect for fans of Debbie Rix, Kate Furnivall and Dinah Jefferies.
***
After reading the previous by Kerry Postle, I was really looking forward to reading this one and I can happily say, I was not disappointed. It was a little slow-paced for my liking, there are long-winded chapters that did carry on a little too much, which I think could have been shorter and still told the overall story, but I thoroughly enjoyed reading it.
Set in 1508; the Italian Renaissance is in full swing, artists are revered and loved by all this tells the story of maybe not as a well-known artist, but one of the very best; Raphael, a man whom people think has been touched by God himself for the beauty he creates on the canvas. When Raphael meets alluring and utterly beautiful Margarita, the daughter of a baker he is enthralled and transfixed by her, she becomes his muse and also his downfall. He may love her dearly but a mere bakers daughter isn't good enough for the likes of the great Raphael as he is promised to another, a woman he doesn't want but a woman who has the connections that any artist needs in this era to be able to further his career.
But will he give up the woman he loves his human heart or will his artist's one win and he does as expected of him?
I learned so much about Italian art from this, I have read a few other stories that feature Italian artist's from the Renaissance, so I had heard of the artist mentioned in this book. I loved this is inspired by the true love story of Raphael and Margarita, their story was one of love, passion and heartbreak. It is obvious from reading this, that this story and the history is a real love of Kerry's, her passion for those Renaissance artists shines through, the research and attention to detail are fabulous it's clear and vivid. But more than that, after reading this it does leave you intrigued by the artwork mentioned.
I was intrigued by the sound of this as soon as I read the back blurb, I am fascinated with this era there is something about Italian history that really pulls you in and captures the attention. This is a beautifully poignant and compelling book that will leave the reader feeling all the love of any Renaissance artist.
This was an arc copy via the publisher, which I voluntarily reviewed as apart of this blog tour.
***
About the Author
Kerry loves art, history and literature.
In her debut novel, 'The Artist's Muse', she explores the artist Egon Schiele's relationship with his model Wally Neuzil and shows that it isn't only Schiele's paintings of Wally that shimmer and shock.
Kerry's second novel, 'A Forbidden Love', is set during the Spanish Civil War and tells a rousing and ultimately uplifting story: that when war has taken everything away from us we are still left with our humanity.
With the author's third novel, 'The Woman in the Painting', she returns to the world of art. Set in Rome at the start of the 16th century the author shares with us the heartbreaking story behind the artist Raphael's portrait of his lover, Margarita Luti. Known as 'The Baker's Daughter', this portrait hides a secret…
For more about Kerry Postle visit; http://frockfriday.co.uk/
***
Blog Tour Schedule
Hello, Sunshines, I hope you are all well? I have the huge pleasure to be sharing my review of this gorgeous book with you all; Daisy's Summer Mission by Hannah Pearl. So grab that cuppa, take a seat and enjoy!
Daisy's Summer Mission by Hannah Pearl
Genre: Women's Fiction/Romance
Publisher: Ruby Fiction/ Choc Lit
Format: ebook
Daisy's job as a gift shop owner may involve selling chocolate truffles and lacy knickers but, this summer, she finds herself turning her hand to a slightly different profession …
Daisy's boyfriend, Eli, works for a secret government agency and, try as she might, Daisy can't seem to help getting caught in the middle of his missions, which take her on a thrilling ride from the streets of Paris to a remote health retreat where carbs are banned!
But when she finds that Eli might be in danger, Daisy has to stop playing at being a spy and become the real thing. Teaming up with her pensioner customer, Mr King, Daisy embarks on her most important summer mission yet. Can she save the day?
Sequel to Daisy's Christmas Gift Shop
***
How excited was I, when I heard that Daisy and Eli were back for another adventure??
I think the gif below gives a fair picture 😉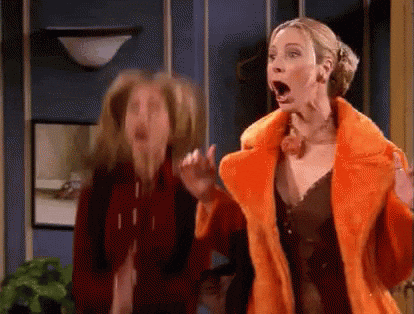 For those who haven't met Daisy and Eli, we first met them in the previous book; Daisy's Christmas Gift Shop where our intrepid duo finds themselves on a road trip to find Daisy's brother and well without giving too much of that story away, but along the way they fall in love. But even though this is a sequel it can be read very easily as a stand-alone, you don't need to have read 'Christmas Gift Shop' to enjoy this. My personal opinion though would be to read them in order as I think you get a firmer grasp on their relationship and how they went from bickering teenagers to the adorable couple they are in this.
So, now they are back again and this time they are a happy couple, even feeling a little Claustrophic due to all the friends and family that keep popping up basking in their newly found love. But, things never run smoothly for these two love birds one minute we are sunning it up on holiday while staring (or should that be; ogling) on gorgeous Eli's firm bottom 😉 and the next we are being whisked off on an exciting, unpredictable and hilarious adventure which sees Daisy becoming a spy, teaming up with a pensioner who is also one of her customers from the shop, and as you can imagine that ensures lots of laughs – all to save Eli…phew, I'm tired with just thinking about it all, I need a snack!
What really struck me most about this book was the beautiful and perfectly written relationship between the two friends; Lily and Daisy. Their friendship is so believable, I can guarantee every woman either now or at some time in their life will have had a friendship like their or you will find a friend like Daisy or Lily. I know I have! This is what makes Hannah Pearls writing so addictive and enjoyable, honestly, I could read her books over and over and never get bored.
I loved this book! At times the plot was a little kooky, but it's brilliantly funny with surprising twists and turns. The characters are just as amusing and lovable as they were from the previous, each one brought something to the story and I love how everything and everyone was connected in some way.
Its got such a feel-good buzz about it, who cares it is not the most believable of plots, its fun, charming and full of summer warmth and joy, its the perfect escapism from the chaos of the real world, this book just makes you feel happy it makes you laugh and fall in love and this is what I love about Hannah's writing she has this rare skill of really drawing on that sunshine and happiness what people most want and putting it on the page in a wonderful feel-good story.
Overall a great little story that is centred on love and friendship, highly recommend for those who love a lighter, entertaining romance with a little bit of a twist. Perfect for whiling away a few hours sitting int he garden as the world moves around you.
This was an arc via the publisher, which I voluntarily reviewed, thank you, Liz and Choc Lit/Ruby Fiction.
***
About the Author
Hannah Pearl was born in East London. She is married with two children and now lives in Cambridge.
She has previously worked as a Criminology researcher at a university in Leicester, as a Development Worker with various charities and even pulled a few pints in her time.
In 2015 she was struck down by Labyrinthitis, which left her feeling dizzy and virtually housebound. She has since been diagnosed with ME. Reading has allowed Hannah to escape from the reality of feeling ill. She read upwards of three hundred books during the first year of her illness. When her burgeoning e-reader addiction grew to be too expensive, she decided to have a go at writing. In 2017 she won Simon and Schuster's Books and the City #heatseeker short story competition, in partnership with Heat magazine, for her short story The Last Good Day.
Hannah is a member of the Romantic Novelists Association.
***

Daisy's Christmas Gift Shop

(Book One)

Struggling to find the perfect Christmas gift? Step into Romantic Daze …

Daisy Kirk is a sucker for a love story, which is why she opened up her gift shop – because there's nothing that makes Daisy happier than when she's helped a customer achieve their own 'happily ever after' by finding the perfect Christmas gift for their loved one. And she absolutely does not just sell 'soppy presents and frilly pants' as her brother's infuriating best friend, Eli, is so fond of suggesting.

The sad fact is that whilst Daisy is helping others with their love lives, hers is non-existent. But when unusual circumstances take Daisy and Eli on a road trip from London to rural Wales, will she finally get the happily ever after to her own Christmas love story?
Hello Sunshines, I hope you are all safe and well?! Today I have the huge pleasure to be sharing my review of this charming book; Her Mother's Secret by Jan Baynham. As always sit back, grab that cuppa and enjoy.
It's 1969 and free-spirited artist Elin Morgan has left Wales for a sun-drenched Greek island. As she makes new friends and enjoys the laidback lifestyle, she writes all about it in her diary. But Elin's carefree summer of love doesn't last long, and her island experience ultimately leaves her with a shocking secret …
Twenty-two years later, Elin's daughter Alexandra has inherited the diary and is reeling from its revelations. The discovery compels Alexandra to make her own journey to the same island, following in her mother's footsteps. Once there, she sets about uncovering what really happened to Elin in that summer of '69
What a wonderful debut!! I can guarantee from reading this emotional, heart-wrenching and feel-good book, that Jan Baynham will have a long career in writing and I cannot wait to see what other beauties Jan is going to gift to us all.
The story is split in two different era's and two different but connected women; the story opens in 1991 with Alexandra who after losing her beloved mother; Elin she is trying to come to terms with her life without the woman who meant so much to her, she feels like a cuckoo in the nest at home. She is trying to keep peace and to grieve for her mother, there is nothing but arguments between her and her father so she moves to her grandmothers, which is when she found old diary of her mothers.
She soon learns some surprising and shocking truths as she starts to get to know the mother she thought she knew, who turned out have many secrets; such as Alexandra, being an artist herself never knew her mother had gone to art college and spent time in Greece, it is while discovering who her mother was – and as in the process who she is too – Alexandra decides to go to Greece to learn more. Elin's story is told via the diary, we are transported to 1969 Greece as her story is told and this is where her secrets and all the emotion that will be wrapped up in what is about to be revealed really hits the reader.
I love the descriptions of Greece, it's clear and vivid, the writing instantly transport s the reader from their armchair to that beautiful island. The small details really make each scene stand out, the way landscapes look an in certain light, the clearness of the sea, the food, the people, the houses. Everything is there to whisk you away, and I thoroughly loved experience 1969 Greece from the comfort of my home.
This story really captured me, I can't put my finger on why I was so drawn to it, maybe because it was so far away from what I usually read? Who knows, but from reading the back blurb I was hooked. I wanted to learn Elin's secret and I wanted to know how whatever happened to her effects her daughter; Alexandra twenty-two years later. You just know that whatever occurred in Greece and to Elin isn't going to be happy and there is going to further sadness, but I loved the way the real connection between mother and daughter, they both have a real passion for art and for life, it is as clear as a bell that they had a strong relationship.
I really liked how this is written, I do love a split timeline, and this is done really well it keeps the reader engaged with each of the characters in the two time zones and there is no confusion over who is who and where they fit into each of these two moment's lives as all is revealed slowly throughout the book.
I have to mention the opening; my oh my that is a real doozy! It was a real surprise to start a book with such a tasty morsel of intrigue, as a reader, I was like a fish on a line eager to know what is going on and how that prologue relates to the story – well I am not going to tell you but all is revealed and it is so wonderfully done!
Overall, a perfect escapist book, it's warm, charming, poignant and engaging, a thoroughly enjoyable read.
This was an Arc from the publisher, which I voluntarily reviewed, thank you, Liz, at Choc Lit. xx
Hello Sunshines! Am I super excited about this book or what? I cannot wait to share with you all my review of the stunning; Her Rags-To-Riches Christmas by Laura Martin, which is book three in the Scandalous Australian Bachelors series. So settle back grab that cuppa, grab your cake and enjoy!
A Christmas miracle rescue!
But dare she wish for more?
Wrongfully-convicted and transported to Australia, Alice Fillips is saved from public flogging by wealthy landowner George Fitzgerald. Working as a domestic servant at his farm feels worlds away from her old life. But as the connection between her and George boils over, she's torn between her fear of trusting anyone…and the tantalising glimpse of the fresh start this man could offer…
I have been avidly awaiting this book for way too long, and I was not disappointed, my goodness! This book is stunning, it's mesmerizing, beautiful, clever and surprising, I felt every emotion and loved every moment, every page was a treat for this romantic's heart.
Her Rags-To-Riches Christmas is the third book in the outstanding; Scandalous Australian Bachelors series, and oh boy, what a series it has been! Each book can be easily read as a stand-alone, yet my personal opinion is, I would read them in order as that way will give you a greater appreciation of just how beautiful this series and these bachelors are. Laura Martin is an outstanding author, I am relatively new to her work only reading this series, but from that very first book last year I was hooked and mystified with her wondrous writing.
The opening is brilliant and sets up the story beautifully, from that first introduction to the characters you know that all is not going to be smooth sailing for Alice and George, there are too many shadows and darkness lurking in their past, especially for Alice, because of what has happened to her she is so reluctant to trust and to believe that people can be good and kind, which I found very emotional and heartbreaking to read, but hugely heart-warming once George shows her that not everyone in life is out to hurt her in some way.
George Fitzgerald is back in Australia, after a brief spell in England with his friends, he is making his way back to his farm when he comes across a young woman being cruelly punished in the town, even though she is a transported criminal he cannot bare to see her flogged so he steps in and claims her as his.
Definitely a Knight in shining armour moment! 😉
Honestly, in that one moment I fell head over heels for this marvellous man, he is a kind, gentle, caring and sympathetic man who cannot tolerate the abuses and injustices he sees around him. But the other reason I adore him, it is his way with animals. I have always said you can tell a mans character by the way he treats those less fortunate than himself or the way he treats animals and George is a prince amongst the injured, the way he cradles that little joy just broke me, I melted completely.
It was so lovely seeing all the boys back together again, I have loved getting to know each one of the Bachelor's as they have found the women who have tested and helped them find their happiness, but I think this is my favourite of them all, I know I have said that about the previous books, but this one really buried itself into my heart, it is hugely emotional, thought-provoking and sensitive and at the same time it crackles with tension and sizzles with pent up attraction, it burns with longing and chemistry. I cannot truly say how much I loved this one, this series is amazing each one so different and so cleverly entwined together yet this one really sets itself apart from the others, I really think that Laura Martin has broken the mould of Regency romance with this beautifully captivating book.
Alice is wrongfully convicted and transported she has been through hell lost a little of her self while a prisoner, she has lost her trust, her faith in humanity, she has become a shell of the wild and vibrant women you just know is hiding in that fragile body. I adore the way Laura has handled the weary budding relationship between Alice and George, the way trust is built up between them is so beautiful to see especially with Alice as she has seen and experienced so little kindness since she was convicted and transported so it is so hard for her to believe and trust George. She senses that he is different from the other men she has encountered, but can she really put her faith in a man who is technically her owner?
What I love about this series is that it isn't your stereotypical regency full of glittery balls and glamorous debutantes, this is looking at the era from the opposite side of the fence we get to see another side to Regency one that doesn't follow the rules and I love it. There is something very enthralling about Australian history, I've not read that many historical romances set there only because I haven't found them, which is a real shame. I loved learning about the land and the history, the descriptions of the outback are so vivid, they are full of raw truth and enchanting colour. It is obvious that Laura has done her research as she wrote this book, every aspect is so clear and real, I was transported there with every scene.
As you may have guessed, I loved it!!! This is easily one of the best I've read, I loved the intricate story, the romance, the easy and thrilling pacing of the story and especially the setting. It's beautiful, atmospheric, enticing, gripping and magical. Hurrah, to Laura Martin for writing such an intense and satisfying book!
This was a complimentary copy via the author, which I voluntarily reviewed, thank you Laura and huge apologies for how ridiculously late this review is. xx
Hello Sunshines, I am very excited to be sharing my review for the wonderful Casting Samson by Melinda Hammond, with you all, today. So grab your cuppa and your cake, and enjoy!
"A haunting blend of fascinating history and timeless romance" – Nicola Cornick
Her life in London shattered by finding her boyfriend in the shower with another woman, Deborah Kemerton retreats to sleepy Moreton-by-Fleetwater. To keep her mind off her broken heart she joins the committee organising a pageant to celebrate the 700th anniversary of the village church. They need to cast the perfect Samson, and Deborah thinks Josh Lancaster perfect for the part…
Anne Lindsay, a fellow committee member, comes into conflict with historian Professor Toby Duggan when she uses a local legend of Sir Hugo, a 12th century crusader and founder of the church, to publicize the event. By the day of the pageant Anne is no nearer to finding the truth and as things begin to go disastrously awry, she and Deborah fear that all their hard work will be wasted, without some sort of miracle…
I love that this is likened to one of my all-time favourite comedies; The Vicar of Dibley, which in my humble opinion is by one of the best comedies. So when I read that Casting Samson had a hint of Vicar of Dibley to it I was very excited, I knew it was going to be good especially with the great Melinda Hammond at the helm. But even I was surprised by how wonderful this little story is, which is full of laugh's, fun and romance with a touch of mystery and history thrown in for good measure. Melinda is an amazing author, she can so easily grasp the reader's attention and never fails to match the most perfect characters together…I will talk about a certain character later…I may need to delve into the gif folder for this one, sigh!!
When Deborah finds her sleaze of a boyfriend in the shower with another woman, the life she had found for herself in London has crashed around her ears. She decides that the best thing for her and the best way to heel herself is to retreat back home, back to her sleepy little village of Moreton-by-Fleetwater. Once there her dad, who owns the local café persuades Deborah to join the local committee which is currently organising a pageant which will be to celebrate the 700th anniversary of the local village church. Which is where she meets the eclectic group of senior citizens that make up the village committee.
I love this little band of people they are a real hoot getting to know, they really add that ye old very English village eccentric charm to the book which I love ….definitely Vicar of Dibley… and some of the things they come out with did at times have me laughing out loud, just the thought of a not so young village parish committee discussing employing male strippers just tickles me; which is really one of the reasons I thoroughly enjoyed this book, is that it made me laugh.
In a topsy-turvy world, we need more laughter and this book is just the ticket to make anyone smile.
As always I strayed off-topic, so the committee is wanting to cast the part of Samson in their pageant and apart from some wanting to involve any undressed man they lay their hands on, it falls to Deborah who may just know the perfect person; Josh Lancaster, part-time stripper full-time chef who just happens to drop into her family's café as the troupe are moving through. He is perfect for the part, as handsome as sin with his roguish slightly feral gipsy like dark looks and a body that any woman with a pulse would become enthralled with, plus….there is a always a plus with me…he is a thoroughly decent chap who…and this is really the cherry on top of the cake…he can cook!!
Yep, I am in heaven…just leave me on the floor where I have fallen into a swoon!
While on the other side of the village fellow committee member; Anne is on a bit of a history hunt as she is adamant that the 12th century Knight; Sir Hugo founder of their little church is buried beneath the said church and she wants to use his legend to promote the village and the pageant. Only like our Deborah, she finds herself entangled with a good looking man where romance may blossom, that's if they stop bickering and butting heads long enough to see what is in front of them.
I adore this little village where everyone seems to know each others business this is such a feel-good story with a host of eclectic characters and not one but two sweet little romances, then; boom in drops the Knights Templar and the story went from sweet whimsical good fun to something else….oh, how much do I love a Knight?? – Really all you have to do is mention the word 'Knight' and I am on it like a pack of hyena's on juicy carcass….hmm, maybe a bit of morbid a comparison!
I absolutely adore the duel timeline, something that when done right is such a joy to read and this is just that; a real enlightening joy and so different to what I've read by Melinda Hammond before. It's brilliantly structured neither of the two timelines merges together which could cause confusion they travel alongside by side in perfect harmony, Melinda has done a great job keeping both sides of the story entertaining and I do hope that there will be more stories from Melinda along the same lines of this.
As you may have guessed, I thoroughly enjoyed this, it's different and at the same time has that much loved Melinda Hammond fabulously cosy and comforting stamp all over it. This is feel-good, enjoyable and gently paced romance with a difference.
This was a complimentary copy via the author which I voluntarily reviewed, thank you Melinda and massive apologies for how ridiculously late this review is. xx
Hello, my festive little sunshines! I have the huge pleasure to be sharing my review of this utterly charming book; Hanukka At The Great Greenwhich Ice Creamery by Sharon Ibbotson. This book is really too cute for words, I can't wait to share it with you. So, grab your cuppa and preferably some Ice Cream and enjoy!
Hanukkah days, Christmas nights and strawberry ice cream …
Cohen Ford is a man who could do with a little bit of sweetening up. It's no surprise that when he walks into The Great Greenwich Ice Creamery on a typically gloomy London day before Christmas, he insists on a black coffee rather than his childhood favourite – strawberry ice cream.
But then he meets River de Luca, the woman behind the flavours. After their first encounter, Cohen begins visiting the ice creamery every Tuesday, gradually learning more about the intriguing River. Could her influence encourage cynical Cohen to become the man who embraces Christmas, Hanukkah and even strawberry ice cream?
This is a charming seasonal love story, with a really unique romance, between a grouchy Jewish New Yorker, trying his hardest to avoid Hanukkah with family and a deaf woman who creates ice cream flavours. This is the first Hanukkah set romance I have read – in fact, delete that, this is the first Hanukkah romance I have seen and I thoroughly enjoyed it, there definitely needs to be more stories like this in the world, I applaud Choc Lit and Sharon Ibbotson for giving this enchanting stories wings.
After a particularly nasty divorce, New Yorker; Cohen Ford takes a trip to London where he is tasked by his mother to deliver a gift to an old family friend. He isn't looking forward to walking into the Ice Creamery as he fears childhood memories to re-awaken. He isn't in any mood for ice cream, much preferring black coffee, but feels that he should do one thing for his mother after all their relationship is already fractured enough to put more strain on it by him disobeying.
But that all changes, his selfish and slightly withdrawn nature soon disappear when he meets the daughter of his mothers best friend; River De Luca, the captivating deaf woman who creates the most alluring ice creams. His attraction to her is instant, the moment he sets his eyes on her, he is struck by cupids arrow but fate and her mother seems to be against their relationship and he is soon warned off her, but does he take heed? Not on your nelly! I love the whole process of Cohen getting to know River, even though she is deaf and doesn't speak, except in sign. The little ways she teaches him to communicate with her is so lovely, theirs is an extremely sweet budding romance, I love how he learns more about himself and how to move past his fracture relationship with his mother just by being with River.
Cohen doesn't have the best relationship with his mother, in fac,t I don't he really ever has had a great relationship with anyone, he has been known to be incredibly selfish and lost in his own world of pity, self destruct and obviously work. I do think that growing up in a turbulent household with parents who constantly screamed at one and other, then for his father to just up and leave has had a huge impact on Cohen and has moulded him into the man he is, some of it good and some bad. He is a man who has allowed his past and seeing his parents volatile relationship dictate how he leads his own life, which unfortunately did entail in his going down the; 'oh, pity me' and selfish path.
This is written entirely through Cohen's point of view, which I thought was a refreshing change, true that does mean we don't get a real insight into River's thoughts except, but that doesn't mean that we don't have an insight into her. I love how she says so much with not a single word, with her little touches, her patience in teaching him sign and their little written messages, I love how without a single word she seems to sense what is going on and what he needs, even if that is a tub of ice cream.
I really liked this! I love how Cohen goes from a melancholic grump who is a little immature, to a sensitive and loving man who has thrown himself into rebuilding his if, his relationship with his mother and learning about River, I really, really liked that turnaround with him.
The is the perfect seasonal cosy and feel-good story, it's beautifully written and full of festive cheer – plus some delicious ice cream, honestly I am in pure heaven!
This was a complimentary copy via the publisher, which I voluntarily reviewed, thank you Liz! xx
Hello, sunshines, I have the huge pleasure to be today's stop on the wonderful blog tour for; The Weekender by Fay Keenan, I am so looking forward to sharing my review of this book with you all, so settle in grab a cuppa and enjoy.
The Weekender by Fay Keenan
Publisher: Boldwood Books
Genre: Contemporary/Women's Fiction
Format : Print/ebook/Audiobook
When Charlie Thorpe met Holly Renton, they were not a match made in heaven…
Holly lives and works in the beautiful town of Willowbury in Somerset. An incorrigible optimist, she is determined to change the world for the better.
Charlie Thorpe on the other hand, is the ultimate pragmatist. As Willowbury's new member of parliament, he has to be. While he's determined to prove himself to the town, as far as Holly's concerned, he's just another politician on the make.
But when their paths cross again, it's clear they've got more in common than they think. Can Holly and Charlie overcome their differences and work together, or are they destined to be forever on opposite sides? And why does Holly have a funny feeling she has met Charlie before…
Let Fay Keenan whisk you away to a world of glorious country views, unforgettable characters and once-in-a-lifetime love. Perfect for all fans of Fern Britton, Veronica Henry and Erica James.
***
This is the first I have read by Fay Keenan and I will certainly be seeking out more of her work in the future, I liked her passionate and intelligent writing style, that combines real heart and a pleasurable and very enjoyable story.
Holly and Charlie, if ever there were a couple that shouldn't be together then these two are it, honestly I was wondering how they were going get together as they are the complete opposite, yet those tantalising little burst of romance are well worth the wait and it does make for great reading as they manoeuvre there way to happily ever after.
This is far more than just a little village romance between two completely different fractions, it has a real hard edge to it which basically surrounds the subplot, the cause that Holly is fighting for and I really liked that element to it, I really won't go into what that is, in this review, as I think it would be a major spoiler, but this book does raise awareness for this hugely important subject, but that is all your going to get from me, you need to read the book to know what I am hinting at.
I did think that it was a little too slow-paced for my liking, the beginning in particular did drag on for a bit too long as we got to know the character's, as I said this is my personal view which is a real shame as I did enjoy the blossoming romance and the head-butting between Holly and Charlie, their heated conversations between the two of them are highly entertaining and shows just how passionate each of them are.
Overall this is a lovely and heartwarming story, that has a serious side hidden within the romance.
This was a complimentary copy via the publisher, which I voluntarily reviewed as apart of this blog tour.
***
About the Author
Fay's Bio – Fay Keenan is the author of the bestselling Little Somerby series of novels. She has led writing workshops with Bristol University and has been a visiting speaker in schools. She is a full-time teacher and lives in Somerset. Fay's new series for Boldwood will begin with The Weekender in November 2019.
***
Blog Tour Schedule
Hellooo Sunshine's, I have the huge pleasure to be featuring this fabulously festive book with your all today, I can't wait to share my review of; Daisy's Christmas Gift Shop by Hannah Pearl. So grab your mulled wine, a gingerbread man and enjoy.
Struggling to find the perfect Christmas gift? Step into Romantic Daze …
Daisy Kirk is a sucker for a love story, which is why she opened up her gift shop – because there's nothing that makes Daisy happier than when she's helped a customer achieve their own 'happily ever after' by finding the perfect Christmas gift for their loved one. And she absolutely does not just sell 'soppy presents and frilly pants' as her brother's infuriating best friend, Eli, is so fond of suggesting.
The sad fact is that whilst Daisy is helping others with their love lives, hers is non-existent. But when unusual circumstances take Daisy and Eli on a road trip from London to rural Wales, will she finally get the happily ever after to her own Christmas love story?
I adore this! It is so heart-warming, it's like being wrapped in a huge comforting bear hug. I did think that this would be a very sweet, run of the mill Christmassy romance where two warring factions finally get together, not that, that is a bad thing, I do love a cosy festive romance – I may not particularly like Christmas too much, but Christmas stories are my Achilles heel, I love them whether they are sweet or surprising and this is definitely the latter. It is far more then what you originally presume it to be, I loved that surprise slightly quirky twist, you do sit up and go; "Did that really happen?" which makes you fly through the rest of the book at lightning speed, yearning to know what happens.
This is only my second book by Hannah Pearl, having loved the first book I was excited to read more of Hannah's work, I love her fun, original and classically romantic style which keeps the reader turning the pages, and this did not disappoint.
I really, really liked Daisy, she is a sweet unassuming character, she sees life in black and white. She broke my heart at times with her innocence, there is something very real about her, she is life long romantic who loves a good love story, plus she loves to help people who come into her little gift shop to find that one perfect item and to help them on their way to their own fairy-tale love story. But as much as she may love romance and happily ever after, she never has had one of her own and this is one of the things that I do like about Daisy she may have her head in the fluffy true love clouds, but deep down she is a realist. She has lived her life thinking she isn't going to have her happily ever after, not when the man she has loved since she was a child doesn't love her. She had on night of passion with gorgeous Eli, before he then moved away and made a life and a rather notorious name for himself, since he has proven time and time again that there is nothing between them, he is a playboy, an adventurer, he doesn't want to settle down into an everyday real bliss. But when something happens, and even that makes them come together on a road trip that could change them both.
I love the character's they are all so different, yet they really gel together, there may be animosity but there is love and friendship too. The relationships between daisy and the other character's are beautifully written, Daisy and her brother Ben are like all siblings they love one and other and want the best for each other, yet they do know the way under the other's skin. I love the friendship between Daisy and her best friend Lily, theirs is a friendship we all need in our life, there is an unbreakable bond between these two women, they know each other inside out and are always there.
Overall a wonderfully tender and exciting romance, that will take the reader on a surprising adventure, one that is full of friendship, loyalty, love, positivity and wrapped up with a charming festive bow.
This was an Arc copy via the publisher, which I voluntarily reviewed, thank you, Liz. Xx
Daisy's Christmas Gift Shop is available now and do go and grab a copy.
Hellooo my friends, I have the huge pleasure to be sharing my review of this wonderful new Christmas book; Happy Christmas Eve by Jackie Ladbury. So grab a cuppa…and a sausage roll, or two and enjoy!
All I want for Christmas is you … or you?
Eve Halligan is back in her hometown for Christmas after a whirlwind few years touring with her band, the Molotovs. A lot has changed since she left, but two things have stayed the same. One: Eve is head-over-heels in love with Lucien Malikov, the Molotovs' bad boy lead singer. Two: Lucien is completely indifferent to her.
Still, Eve dreams that this could be the Christmas where she convinces Lucien that they're made for each other. But when childhood friend and local caterer Theo Wright comes back into her life bringing with him festive cupcake and sausage roll conundrums, Eve begins to question whether her Christmas dreams have been wasted on the wrong man …
I love a feel-good Christmas romance, and this is just perfect for those colder, chilly nights wrapped in a blanket with your fluffy socks on. It is pure festive joy; fun, charming, cheery and a very delicious romance, everything you would want from a Christmas book is right here….it even has sausage rolls, who doesn't love a sausage roll at Christmas…or any time of the year? Yes, I am afraid to say that Jackie Ladbury did have me hooked from the moment a sausage roll making gorgeous guy was mentioned.
Eve is back home after years on the road with her band; the Molotov's – well, when I say her band she is more like a roadie than a participating band member, she is in her own right a brilliant singer, songwriter and guitarist yet the bands lead; ridiculously arrogant and vain Lucien does push her into the background, Eve may like him and think that the sun shines when he is around but personally I thought he was a bit of a pillock and did take against him from the off, which I have to congratulate Jackie Ladbury for that brilliant piece of writing. Anyway, our Eve she has been infatuated with him since they were children, so when he asked her to tour with him and be his singer she literally jumped at the chance – unfortunately for Eve she soon learned that he didn't want anyone to take the limelight from him so she became a basic dog's body.
Once back home for Christmas she did hope that things would change and Lucien would change and start to see and treat as in the way she would like – really Eve, haven't you heard that Leopards never change their spots, and this leopard is well and truly stuck in his, well that is until he realises there is competing for lovely Eve's attention in the form of delicious and kind; Theo – ahhh, Theo – be still my beating heart!!
Theo is another of their childhood friends, whereas Lucien wants to be this hugely loved internationally adored pop star; our Theo is more than happy in the kitchen baking some delicious treat's, yet he has made a name for himself and his catering business has soured and now they are all back together – in some sort of fashion. Now there are two men in Eve's life, two completely different men; one is charming, natural, kind and actually see's her as a person and the other is a notorious playboy, a rogue, charming yet arrogant and only interested because someone else is, but which one will sweep her off her feet and make this Christmas the best yet? I can tell you which one I was cheering on and for once it wasn't the bad boy if a man-made me sausage rolls he would have my heart for life 😉
Well, I ain't going to tell you, you're going to have to read for yourselves! I'll just say that this, I loved the journey Eve goes on to have her perfect Christmas, she has difficult choices to make. If you love your sweet, heart-warming and very festive romances then this is a perfect read, even if you don't then I definitely recommend you give it a go. It is one of those stories that you will pull off the shelf every Christmas, I know that it will be one which I will be re-reading again.
This was an Arc copy from the publisher, which I voluntarily reviewed, thank you Liz. Xx
Happy Christmas Eve is available now and can be found at Amazon.