Hello Sunshines! I have the huge pleasure to be sharing my review of the fabulous; The Earl With The Secret Past by Janice Preston. This is a wonderful book and there is a review somewhere hidden within the waffle, I hope you will love it as much as I do!
The Earl with the Secret Past by Janice Preston
Genre: Historical Romance / Publisher: Mills and Boon, Harlequin Books / Format: Ebook, Paperback / Release Date: 16th June 2020
An unexpected inheritance
An explosive reunion
Hardworking architect, Adam Monroe's world is shaken when he inherits an earldom! Thrust into the ton, he bumps into widow Kitty Fenton—his lost love. Years before, he refused to elope with Kitty to save her from ruin and was heartbroken when she married soon after he left. Perhaps fate has given him a chance to discover the truth—after all, beneath the hurt, the sparks of attraction are as strong as ever…
Have you seen this cover??
Before I start waffling, I got to mention that cover, again! Isn't it absolutely flaming gorgeous? Ah, that cover model, he's not how I saw Adam in my head while reading, but still…..#DoudleSigh!
Praise for Janice Preston
"…a fantastic storyteller with a terrific ability for bringing the past to vivid and colourful life."
"Janice Preston has a wonderful warm writing style."
"Janice Preston is one of the most unique voices in Historical Romance!"
'The writing flows as elegantly as the Regency characters themselves.'
'Janice has a real knack for drawing you in and keeping you there.'
'I can't wait to read more from Janice Preston!'
'The dialogue positively sparkles.'
'Janice Preston has the knack of effective characterisation and I think her name will be seen a lot in future.'
Review
The latest from the brilliance that is; Janice Preston is one of her best yet – in my humble opinion! I do realise I say that an awful lot, but I'm not ashamed to fangirl over a favourite author, especially when she writes such beautiful words and this one is so full of beautiful words I may have to weep with pure joy. This is proper escapism, Adam and Kitty whisk you away, make you fall in love and leave you feeling all warm and sighing with contentment at the wonderful and worthy ending.
What I particularly love about this is that Kitty and Adam are not a young buck and debutante pairing, both are in their thirties and having a bit of experience and a past they have a second chance at happiness. That is so refreshing especially as we see so few older lead characters in historical romance and I think it is important to have love stories where the characters have said goodbye to the schoolroom many moons ago. As much as I love and will read any historical romance, as I get older I am more and more drawn to books where the main characters are more my own age, I can't explain it but it does make reading the book and following the characters that little more enjoyable. There are little things or something Kitty would say and I was like; yes!
Hmmm?! I may have waffled a little there…
Fifteen years previously Kitty and Adam meet and fell in love only for Adam to break her heart and left, she doesn't understand his treatment of her, he thought himself unworthy of her, being an architect's apprentice Adam didn't think that someone as lovely and high ranking as Kitty should be tethered to 'trade' so he leaves her with nothing but a few hurtful words and more heartbreak then he could ever imagine. All Kitty wanted was Adam, simple as that! She wanted him to rescue her from the future which had already been planned out for her.
Fast forward fifteen years and both of them are about the have their lives turned upside down.
Adam discovers he isn't who he thought he was and worst those around him have lied to him all his life, he isn't just an architect he is actually the long-lost Earl of Kerridge and he is about to take his place in the circus that is society, thank goodness for his friend; Robert Fenton, who just happens to be the stepson of none other than the woman he walked away from all those years ago, a woman who he never forgot and a woman who has always loved. But is the feeling mutual?
Kitty is an interesting and very relatable character, she is hurt, confused and angry by being so callously put down by Adam. Personally, I don't she cared that he was just an apprentice architect she loved him for the young man she saw and got to know all those years ago and that deeply ingrained love for him is still there beneath all the years of barricading that part of the heart and focusing her love and life on her husband, stepchildren and her writing. Yes, our Kitty is a writer, how brilliant is that? So to hear of the revelation that her childhood love is, in fact, the new Earl of Kerridge is news that starts a whirlwind of emotions and complex thoughts running through her head. You really feel for her!
But the question is; can these two star-crossed lovers traverse the churning sea of old and present emotions to give their fledgeling romance ago?
Oh, Adam!!! How much do I love this man? Gorgeous, brooding, intelligent, passionate, a proper hero plus he's Scottish – oooh, I do love a thick Scottish brogue and with how perfectly Adam's character is written you can 'hear' him purring and growling while reading. But don't just think that it's the accent which is the only reason why I love this man and that I have an overactive imagination which pictured him in kilts far too many times – Outlander has a lot to answer for, for where my imagination goes 😉
You know, I had to do it…;-)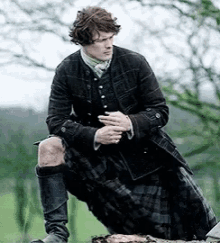 But our Adam is easily one of my favourite heroes, he is a proud, hardworking., loyal, compassionate, sexy as hell man who once he finds out the truth of who he really is at first is like a fish out of water. My heart goes out to him, there are moment's when I wanted to leap into the book and give him a huge cuddle when he seems so lonely and a little confused about his new life. He is stuck on the outside looking in, he feels once he has the title that he doesn't belong anywhere, he isn't an aristocrat and he no longer belongs with the working class, but don't think that stops him from speaking his mind and doing things his own way when he is able.
I thoroughly enjoyed this, the story is fresh, original, entertaining, thrilling, engaging and a little different in feel from all of Janice's previous books. I loved the fast-paced journey that we as readers are taken on with the characters throughout the book, there is a feeling of adventure and surprises along the way that are so intricately woven into the fabric of the plot. As much as I loved the Beauchamp's it was great to become invested in another selection of characters, some of whom I would love to see have their own stories sometime in the future.
Overall, a wonderful second chance love story which centres around two very different main characters, both of who are a little older than the stereotypical late teens/the early twenties which we see so much of. Plus Kitty and Adam are genuinely very likeable, you are rooting for them to finally have their happily ever after that they both deserve.
Very highly recommended for all who love an original historical romance!
This was an Arc copy from the author, which I voluntarily reviewed. Thank you, Janice! x
About the Author
I grew up in Wembley, North London, with a love of reading, writing stories and animals. After leaving school at eighteen, I moved to Devon and any thoughts of writing became lost in the hectic rush of life as a farmer's wife, with two children and many animals to care for. When my children left home for university, I discovered a love of history and of the Regency period in particular and began to write seriously for the first time since my teens.
Real life then got in the way and I didn't write again until 2009. I joined the Romantic Novelists' Association in 2012 and my first Regency romance was accepted for publication by Harlequin Mills & Boon in late 2013.
I now live in the West Midlands with my second husband and two cats and I continue to write Regency romances for Harlequin Mills & Boon.
You can find more about Janice and her books over at her website https://janicepreston.co.uk/