Hello my wonderful friends, have I been excited about this book, or what? And finally The Wallflower Wager has come to Chicks Rogues and Scandals…..I feel like dancing with joy! I am so excited to be sharing my review of this gorgeous book with you all and I have an exclusive (no spoilers) excerpt for you all to devour, so grab a cuppa and a snack of your choice and enjoy.
They call him the Duke of Ruin.
To an undaunted wallflower, he's just the beast next door.
Wealthy and ruthless, Gabriel Duke clawed his way from the lowliest slums to the pinnacle of high society―and now he wants to get even.
Loyal and passionate, Lady Penelope Campion never met a lost or wounded creature she wouldn't take into her home and her heart.
When her imposing―and attractive―new neighbour demands she clear out the rescued animals, Penny sets him a challenge. She will part with her precious charges, if he can find them loving homes.
Done, Gabriel says. How hard can it be to find homes for a few kittens?
And a two-legged dog.
And a foul-mouthed parrot.
And a goat, an otter, a hedgehog…
Soon, cold-hearted Gabriel, who wouldn't know a loving home from a workhouse, is covered in cat hair, knee-deep in adorable animals, and bewitched by a shyly pretty spinster who defies his every attempt to resist. Now she's set her mind and heart on saving him.
Not if he ruins her first.
***
Exclusive Excerpt
"Stop," she said with perfect calm. "Don't move."
He heard a strange flutter, and in the next moment it happened.
A bird landed on his shoulder. A parrot, she'd said? The creature's toes prickled along his skin. His muscle twitched with the urge to shrug it off.
"No, don't," she said. "I'll come for her."
Usually, Gabe would balk at taking orders from a lady – or anyone else. However, this was a decidedly unusual situation.
"Pretty Girl," the bird squawked.
Gabe set his jaw. Do you think I haven't noticed that, you cursed pigeon with pretensions?
She crept towards him, padding noiselessly over the carpet, step by silent step. And as she came, sweet words fell from her lips like drops of raw honey.
"That's it, darling," she murmured.
The fine hairs on the back of his neck lifted.
"Stay…right…there."
The hairs on his arms lifted, too.
"Yes," she breathed. "Just like that."
Now she had the hairs on his calves involved. Damn it, he had too many hairs. By the end of this they would all be standing to attention.
Along with other parts of him.
"Don't stir." she said
He couldn't speak for the parrot, but Gabe was doing some stirring. One part of him had a mind of its own, especially when it came to beautiful women in translucent chemises. He hadn't lain with a woman in some time, but his body hadn't forgotten how.
He couldn't help himself, he stole a glance at her face. Just a half-second's view. Not long enough to pore over every detail of her features. In fact, he didn't get any further then her lips. Lips as lush as petals, painted in soft tender pink.
She was so close now. Near enough that when he breathed, he inhaled a lungful of her scent. She smelled delicious. A faint hunger rose in his chest.
"I know you're feeling lost. And not a little frightened. You miss her terrible, don't you? But I'm here, darling. I'm here."
Her words sent a strange ache spreading from his teeth to his toes. A painful awareness of all his hollow, empty spaces.
"Come home with me," she whispered. "And we'll sort out the rest together."
He couldn't take any more of this. "For God's sake, get the damned thing off me."
At last she collected the feathered beast. "There we are." Cradling it in her arms, she carried the parrot to it's birdcage and tucked it in.
Gabe exhaled in relief.
"She'd settle more if I covered her cage," his beautiful intruder said. "I don't suppose you have a towel?"
He glanced at the linen slung about his hips.
"How badly do you want it?"
Her cheek's flushed. "Never mind, I'll be going."
"I'm going to walk you."
"Truly, you needn't do that. It's only next door. No more than twenty paces down the street."
"That's twenty paces too many."
Gabe might not operate by polite society's rules, but he understood them sufficiently to know this situation violated at least seventeen of them. And anything that damaged her reputation would decrease the profit he stood to collect on this house.
Until he sold this property, her worth was intertwined with his.
"You're no doubt accustomed to having your own way, Your Ladyship. But I've ruined enough lords, baronets, knights and gentlemen to fill the whole of Bloom Square." He arched and eyebrow. "Believe me when I say, you've met your match."
***
Penny watched in silence as the Gabriel Duke turned and stalked to his dressing room.
Then she melted into a quivering pool on the floor.
Heavens.
he'd left the door ajar. As his towel dropped to the floor, she caught a glimpse of taut, muscled backside before tearing her gaze away.
Oh Lord oh Lord oh Lord.
Once she'd latched and re-latched Delilah's cage for good measure, Penny stood and attempted to piece herself back together.
She glanced hat her dressing gown. The faded toile print was years behind the fashion, and the end of the sash were hopelessly frayed – the casualty of many a playful kittens swipe. And her hair …Oh, she could only imagine the state of her hair after this adventure.
She peered into the dressing-table mirror. Worse then she feared. Her plait made Delilah's ruffled crest look sleek. Penny quickly unknotted the muslin around her braid and combed her hair with her fingers before re-braiding it and tying it off.
She squinted into the mirror again. Better, she judged. Not a great deal better. But better.
"Pretty girl"
From the dressing room, Mr Duke gave an annoyed groan.
"I'm so sorry for the imposition," she called "Delilah only came to live in Bloom Square a few weeks ago. Her mistress passed away. Parrot's are very loyal an intelligent, and they often outlive their human companions. So she's not only been uprooted from her home, she mourning."
"I must say she doesn't sound particularly aggrieved to me."
"She does say the most amusing things, doesn't she? 'Pretty girl' and 'yes', and – Do you hear that one? 'Fancy a …' what? I never can catch what she's saying at the end. It's not biscuit.'Fancy a cuppa,' perhaps? But who gives a parrot tea? It sounds like 'fancy a foxglove,' but that makes even less sense. I don't mind saying the mystery is driving me a bit mad."
"Fuck."
She froze. "I'm not that upset about it."
He returned to the bedchamber, not clothed in a pair of trousers and an unbuttoned shirt.
"It's what the parrot's saying. 'Fancy a fuck, love.' that bird came from a whore house."
She spend a few moments in scandalized silence. No one had ever spoken to her in such a manner – but that wasn't the disturbing part. The disturbing part was that she liked it.
"That can't be," she said. "She belonged to a little old lady. That is what I was told."
"Bawds turn into little old lady's too."
"Pretty girl." Delilah gave a cheeky whistle. "Fancy a f-"
Penny pressed a hand to her mouth. "Oh, no."
"Yes! Yes! Ooh! Yes!"
Mr. Duke sat to pull on his boots. "Please tell me I don't need to translate that for you."
***Excerpt was used with permission from Mills and Boon as apart of this blog tour. ***
***
Once again Tessa Dare has blown me away with her wonderous way with words, again and again she proves that she is in a whole league of her own when it comes to historical romance, there isn't a single negative thing that I can say about her work, she is pure class and this one maybe the best I have read to date, it is unbelievably good.
This is the third book in the Girl Meets Duke series, and the best yet, in my personal opinion. What makes this my personal favourite is the fact that our hero is a regular self made man, instead of an aristocrat, he has worked hard to pull himself out of the gutter to become such a powerful tycoon. I don't anyone who reads my reviews will find that a surprise that I prefer regular Mr. Duke to an actual Duke, but seriously though this man is….well, I think I need a gif to say what I think of Gabe…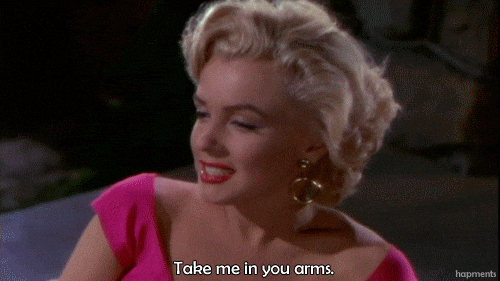 Lady Penelope, what a fabulous character she is! From the first page when she was trying to coax a stubborn parrot from the windowsill with a biscuit, I knew that I had found a kindred spirit, she is brilliant, she babbles on from one topic to the next, she loves her animals and will do anything in her power to look after them and she will fight tooth and nail to protect them, she is kind, caring and very misunderstood by the ignorant people of society that find her odd – Penny, you are not odd, you are unique! She has gathered a menagerie of animals a fact that her family are at odds with and soon give her an ultimatum; if she wishes to stay in London and live independently as she is now, then she must be rid of the animals and enter society or she goes home to become the much loathed role of spinster aunt. Enter Gabriel Duke, the notorious Duke of Ruin who has just moved in next door and after an hilarious first encounter offers to help her, but it is while helping her that sparks start to fly and our unlikely duo become more then just 'acquaintances'
Gabriel Duke, I think you all know what I think of him; sexy, ruthless, protective, brooding, growling, hard-working, self-made man, enthralling, mesmerising…he is just so damn hot, I need a bucket of water thrown over me!! I don't think I can take the heat that radiates from this testosterone fuelled hulk of a man.
Mmmm!! …..Where was I? Gabe, yes…he has clambered , dragging himself out of the dirt and the gutter to become this powerful, ruthless tycoon who doesn't take no for an answer. He has just bought the house next door to Penny and plan's to do it up and sell it for a huge fortune, and he knows that with the house being so close to the beautiful spinster' Penny he will get so much more for it as every young buck and rogue will want to live next door to her. The only problem with his plan to renovate the house and bring it up to date is none other then the girl next door – if he hasn't got enough to deal with, now he has to deal with a house full of animals.
This is just so good, the relationship between Penny and Gabe is brilliant, they are laugh out loud funny and the chemistry is off the charts sizzling hot. I loved them because they are so different, I wouldn't never have believed that they would work as well together as they did.
This is everything that we all have come to love about Tessa Dare books; humour, twists and turns, sexual tension, fabulously engaging plot, gorgeous couple all entwined with that unmistakable Tessa Dare gift for mesmerising story-telling. Honestly I cannot recommend this book enough, it will appeal to all Dare fans and also for those who haven't read a Tessa Dare book yet – really is there any one out there who hasn't read on of this fine authors work? – then this is the perfect introduction to her wonderful work.
This was a complimentary copy from the publisher, which I voluntarily reviewed as apart of this blog tour, thank you Mills and Boon Insiders.
***

About the Author
Tessa Dare is the New York Times and USA Today bestselling author of more than twenty historical romances.
Mixing wit, sensuality, and emotion, Tessa writes Regency-set romance novels that feel relatable to modern readers. With her bestselling "Spindle Cove", "Castles Ever After", and "Girl Meets Duke" series, she has had great fun creating heroines who defy the conventions of their time—engaging in "unladylike" pursuits that range from paleontology to beer-making—and dreaming up the strong-willed, sexy heroes who find their hearts ensnared by them.
A librarian by training and a booklover at heart, Tessa makes her home in Southern California, where she lives with her husband, their two children, and a trio of cosmic kitties.
***
Blog Tour Schedule