Here at Chicks, Rogues and Scandals I am very pleased to have Author Sophie Barnes chat with me today, So take a seat and let's get to know Sophie. . .
Reading Chick : Hi Sophie, Welcome to Chicks, Rogues and Scandals, Thank you for taking the time to chat with me today. Firstly what five words would you use to describe yourself?

Sophie : Thank you for inviting me to stop by! Five words to describe myself would probably be: mother, wife, creative, romantic, dreamer.

Reading Chick : Oh I like those Sophie, If you could live in any era and place, when and where would it be? And Why?

Sophie : I would love to try living in Regency London for research purposes, but only if I can come back to modern society when I choose. Dealing with the lack of modern conveniences for a long term period would be frustrating.

Reading Chick : I have heard that a lot and I completely agree with you, I don't I could go too long without modern conveniences either, OK on we go, Who was your childhood hero?

Sophie : Audrey Hepburn. She was just so incredibly lovely.
Reading Chick : Oh I like that! Wasn't she beautiful? What is your favorite time of the year?

Sophie : Christmas. I love everything about it – the decorations, the traditions, the food and the family unity. If there's snow, then that's an added bonus.

Reading Chick : Very True Sophie, Out of all your work, who is your favorite character and why?

Sophie : I love Mary Croyden from, There's Something About Lady Mary. She's smart, well-educated and determined to follow in her father's footsteps by scandalously practicing medicine, no matter what the consequences might be to her reputation. Her first priority is to help people.
Reading Chick : Very nice, Your books are incredible, where doe's your inspiration for them come from?

Sophie : Honestly, I'm not entirely sure most of the time. I suppose a lot of my ideas have taken root in pop culture, like from Fairy Tales or TV shows. Sometimes I'll see a movie and wonder what the plot might look like if it a) took place during the Regency and b) the male and female parts were reversed.

Reading Chick : That is very interesting, What three tips would you pass on to an aspiring author?

Sophie : Set a writing schedule for yourself and then write every day. Before getting published, I wrote with the same amount of dedication as I do now. This meant that by the time I got my first offer I had two books ready to go.

Set up social media accounts for yourself so you can get in touch with bloggers and other authors early on. You never know when an opportunity to pitch your idea might come along.

If you're a romance writer, then join Romance Writers of America. If you can afford to, take part in their annual conference where you'll have the chance to meet agents and publishes. Alternatively, you can try to submit directly to Avon via their website without using an agent.

Reading Chick : Oh Wow! Those are some really brilliant tip's, Thank you very much Sophie and I am certain that some aspiring author out there will really be very appreciative for those wonderful tip's. OK another question, If you were hosting a dinner party what three people would you invite? (They can be real/fictional, dead or alive)

Sophie : Jane Austen, Mr. Darcy and Elizabeth Bennet.

Reading Chick : I am not at all surprised that Jane Austen is invited, she is definitely a must. Tell me a little about your next release.

Sophie : Continuing with my Secrets At Thorncliff Manor series, it's a Phantom of the Opera inspired romance featuring a wounded hero seeking revenge and a heroine whose voice and inner beauty will heal his heart.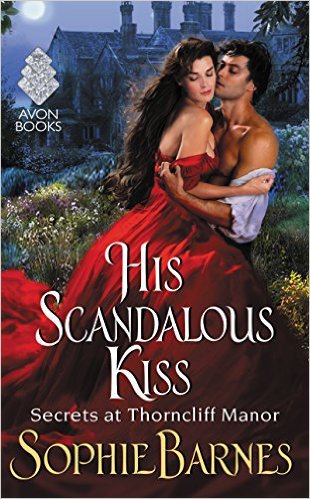 Reading Chick : Oh that sound's absolutely brilliant and right up my street, I do love a scarred and vulnerable character, awesome! Thank you again Sophie for taking the time out of your busy schedule to chat with me today, I have just one more cheeky question, just for fun. . .What is your all-time favorite naughty but nice food?

Sophie : I'd have to say tiramisu.

Reading Chick : Very nice, Thank you again Sophie.
If you would to know more about Sophie and her book's then click on the link's below.
Goodreads